Jukebox Jockey
A fully featured, very configurable software program that is ideal for digital jukeboxes and karaoke computers. It is engineered for use at celebrations, in venues, or as a professional music playback program.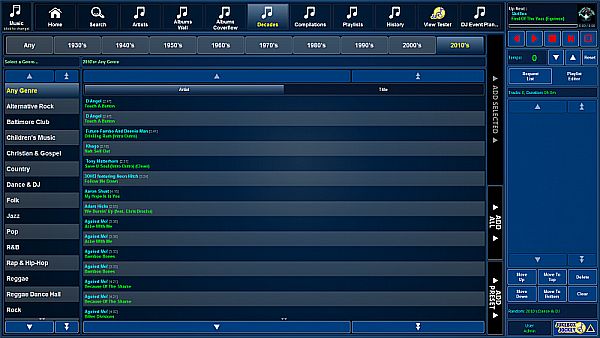 Features:
Works with a broad selection of formats for music, video, and karaoke.
Developed for touch screens, the user interface is tailored for large fingers! But naturally you can nevertheless use a keyboard and mouse if you choose.
Complex search capabilities are made simple utilising the built in on-screen keyboard.
Personalize the graphics, and text-formats.
Regulate the soundcard volumes from within Jukebox Jockey. Utilize this for managing microphone or auxiliary-in levels.
Silence Detection, Cross-fading, Limiter, Dynamic Amplifier.
Will display coverart, now-playing information, video, and karaoke on one or more monitors.
Supports coverart stored in tags or folders.
Customize the menus and views to create the digital jukebox or karaoke machine that fits your needs.
Much more...
Supported Operating Systems
Windows XP (32 & 64 Bit), Windows Vista (32 & 64 Bit), Windows 7 (32 & 64 Bit), Windows 8 (32 & 64 Bit)
Minimum Requirements
1,8 Ghz single core processor 1 gigabyte of ram
Supported Music Formats
MP3, WAV, WMA, MIDI, WV (WavPack), AAC (M4A), ALAC (Apple Lossless), TTA (MKA), TTA, APE (Monkey's Audio), OFR (OptimFROG), MPC (MusePack)
Supported Video Formats
WMV, MPEG, MPEG2, MPEG4 (MP4), MKV
Supported Karaoke Formats
MP3+G (MP3 & CDG files), ZIP (MP3 & CDG files zipped)
Supported Input Devices
Keyboard and Mouse
Touch Screens
Infared Remote

Price $199.00