Power CD+G Burner 2
Power CD+G Burner is the complete CD+G disc burning and ripping solution. With most later model CD and DVD writers it will burn BIN, CDG, KMA, MCG, MP3+G, and ZIP files. The CD+G burning process is as simple as selecting files and pushing a button. There is no longer a need for multiple programs.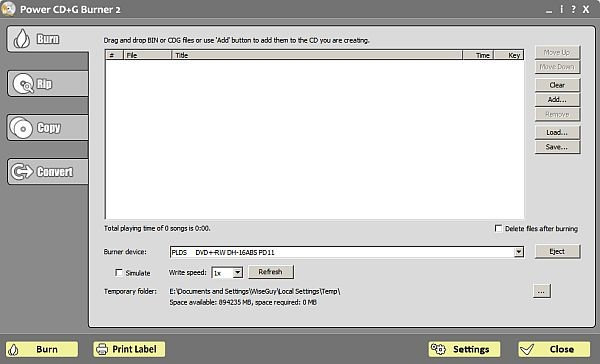 Uses Standard CD-R Discs
Works With Most Modern CD/DVD Burners
Creates Exact Dupilcate Copies of CD+G Discs
Creates Custom Compilation CD+G Discs
Creates CD+G Discs from MP3+G Files
Creates Key Changed CD+G Discs
Discs Will Play In Virtually Any Karaoke Machine
Rip Songs from CD+G Discs to MP3+G Files
Convert Between Several Karaoke File Types
Features
Burns BIN, CDG, KMA, MCG, MP3+G, and Zipped MP3+G files.
Drag-and-drop can be used to add files to the burn list.
Saves CD+G disc song tracks as BIN, MP3+G, Zipped MP3+G, and WAV+G files.
Copies CD+G discs with a single mouse click.
Creates custom compilation CD+G discs.
Change the song key before burning. (Exclusive Feature)
Retrieve the song and artist names for many discs using a FreeDB online database.
Print CD case labels with the built in label printer.
Convert between BIN, KMA, MCG, MP3+G, and Zip file formats.
Works with most modern CD and DVD burners. (Burner must be MMC-compatible and support DAO/96 mode).
Power CD+G Burner works under Windows 2000, XP, Vista, 7, 8, and 10 (32 and 64 Bit Versions)

Bundle with Power CD+G Player Pro and SAVE $9.00
Bundle with Siglos Karaoke Player/Recorder and SAVE $9.00